Türkiye was hit by two huge earthquakes in a span of nine hours on Feb. 6. The quakes changed the existing literature on the discipline of seismology. According to experts, in terms of their magnitude and effect, they were the biggest and the most devastating inland earthquakes the world has ever seen. They damaged 10 provinces of Türkiye, equal to the size of Belgium. So far, more than 31,000 people have been recorded dead, and about 100,000 people were wounded. The earthquakes moved the Turkish territory 3 meters (around 10 feet) in the southwest direction. After the earthquakes, the Turkish government declared a state of emergency, the first of its kind in the history of Türkiye, and officially requested international assistance for the first time. I have underlined these points just to show the gravity of the disaster.
Of course, it is necessary to analyze this disaster from different perspectives, including political, economic, social, psychological and academic. In this article, although it is too early to reach a comprehensive result, I will briefly describe the result and impact it has had in the field of diplomacy.
International reaction
Answering the Turkish government's call for help, positive responses began to pour into Türkiye from almost every continent and region around the world. So far, around 100 countries have responded with aid to the disaster Türkiye has experienced and declared that they will continue to assist at different levels. Some states, such as Azerbaijan, Hungary, Greece and Israel, have sent effective search and rescue teams. Again, some states such as Azerbaijan, Qatar and Russia provided public relief to help the survivors. The U.S. and many European states both sent search and rescue teams and promised financial aid.
Many African countries, who could not afford and could not provide in-kind/cash aid, also made statements that shared our pain. The people of these countries have prayed for Türkiye, which is known as the state of mercy for its sustainable humanitarian aid at the global scale. In addition, nongovernmental organizations (NGOs) from many countries, especially Muslim countries, started to organize aid campaigns for Türkiye.
As expected, the first and most effective reactions came from our sister country Azerbaijan. The Azerbaijani state and people have mobilized to send different kinds of assistance to Türkiye. Then, news of aid began to come from other Turkish states such as Uzbekistan and Muslim states such as Pakistan and Qatar, with which Türkiye was in close cooperation. The Kurdistan Regional Government (KRG) was also one of the first who has sent public relief and rescue teams to the disaster region. Governments and peoples of other Muslim countries have provided effective aid to Türkiye. They sent some of the aid immediately and announced that they would send some gradually.
There was also significant support from Western countries. Almost all Western countries have sent rescue teams, in-kind and cash aid. Among the European states, the country with the most significant influence was Hungary. The search and rescue teams of Hungary, which is one of the rare European countries that have close relations with Türkiye, had accomplished great success in rescue efforts.
Almost every country in the region sent messages sharing the sorrow of the Turkish people and promising assistance. The Gulf states such as Qatar, the United Arab Emirates (UAE), Saudi Arabia and Kuwait have provided a significant amount of aid for the earthquake disaster. The emir of Qatar, Sheikh Tamim bin Hamad Al Thani, visited Türkiye and recently met President Recep Tayyip Erdoğan in Istanbul, becoming the first leader to visit Türkiye after the deadly earthquakes.
The state of Israel, which has been in the process of normalizing relations with Türkiye recently, was one of the first countries to respond to Türkiye's call for help. It has sent a rescue team with the largest participation only after Azerbaijan and announced that it would provide additional assistance if necessary.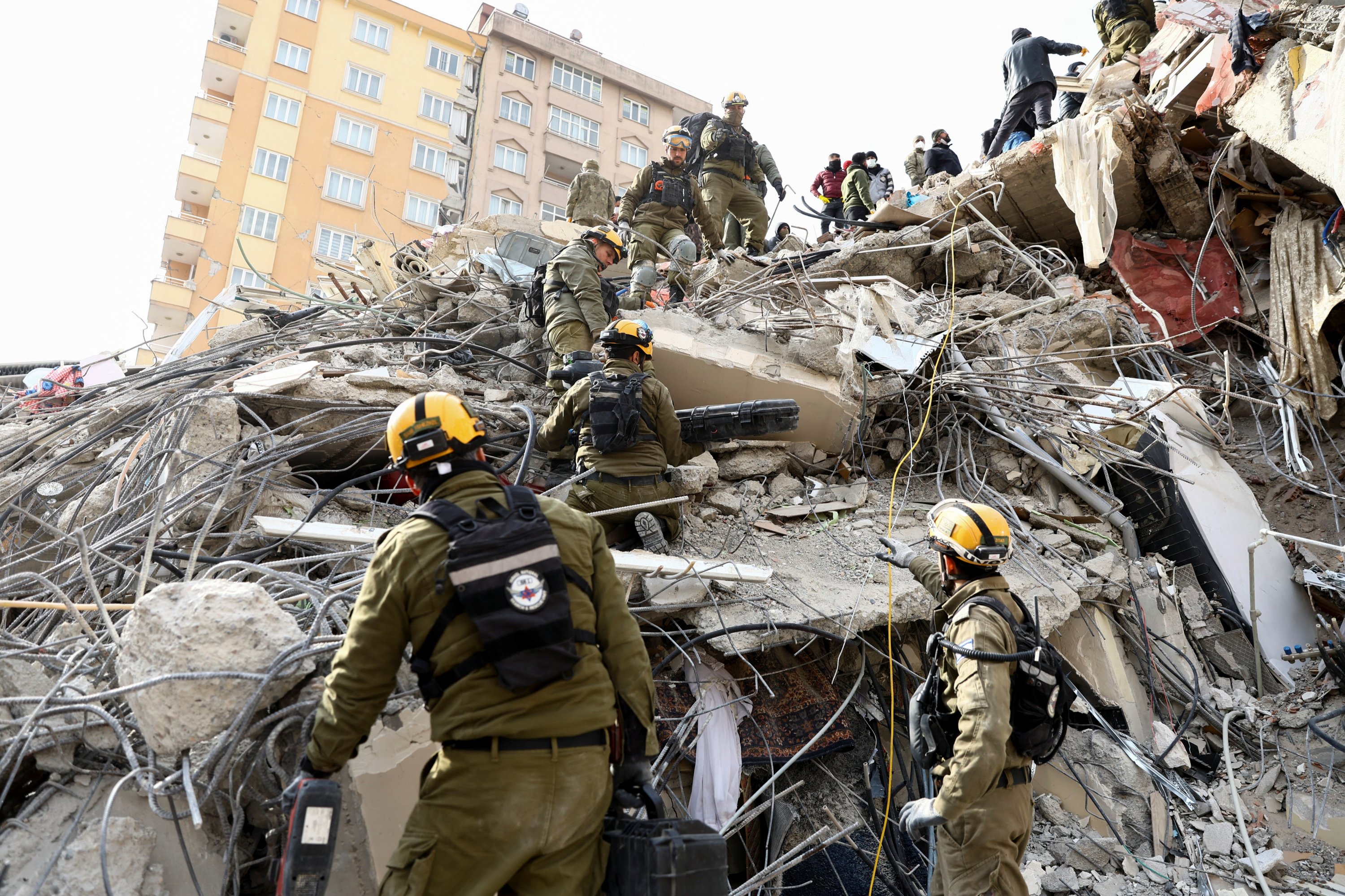 Similarly, Egypt's response is noteworthy. The leaders of the two countries, who had their first direct meeting in Doha, the capital of Qatar, during the World Cup ceremony, met for the second time. Egyptian President Abdel-Fattah el-Sissi called Erdoğan and this phone call is politically important since Türkiye's normalization process with Egypt is the slowest. It is also important that Armenia, which has a traditionally conflictual relationship with Türkiye, has sent a rescue team and shared messages that share the pain of the Turks. This was the first time that the Turkish-Armenian border gate was opened after 35 years.
Greece's support
Among all the states, the most striking example of changing relations was Greece and the reactions of Athens. Different Greek politicians have called their Turkish counterparts at different levels and have acted as if relations were OK. First of all, Greek President Katerina Sakellaropoulou called Erdoğan and expressed her condolences. Second, Prime Minister Kyriakos Mitsotakis called Erdoğan and offered his condolences. Third, Foreign Minister Nikos Dendias visited the earthquake region and met with his counterpart Mevlüt Çavuşoğlu and conveyed his condolences. In fact, even the phone call made by Mitsotakis was the most important development. Considering that Erdoğan had declared that he would not meet with him again due to Mitsotakis' anti-Türkiye statements in his speech at the U.S. Congress, Mitsotakis' phone call is a very important development that may lead to a normalization in bilateral relations.
Furthermore, the success of the Greek search and rescue team in the debris removal and rescue process revealed ties that cannot be explained diplomatically. The hug shared between a Greek rescue worker with the Greek flag on his helmet and a tiny earthquake survivor with the Turkish flag on his arm will be remembered as a warm photograph that reflects purely humane emotions. In addition, the Greek foreign minister was the first high-level foreign official to visit the earthquake region.
The aid sent and messages issued underline a very clear and important fact: the humane response of people during a humanitarian crisis. Although states and people experience problems, conflicts and wars due to different political, economic, social and cultural issues, they set aside enmity among themselves and take care of one another by emphasizing the humane dimension.
As a second result, the global aid and reactions showed how Türkiye's international humanitarian aid activities have increased the sympathy toward our country and the impact of Türkiye's humanitarian diplomacy. Of course, Türkiye and the Turkish people help states and peoples in need in difficult times without expecting anything in return, but we have seen how this humanitarian aid turns into a de facto force when the time and place comes. As a final word, I hope that humanitarian thought will always prevail over the interests and profits in international relations.