French President Emmanuel Macron paid an important visit to China and met Chinese President Xi Jinping last week in the shadow of the fierce protests in the streets against the government and its controversial pension reform.
At the Euro Summit held last month, Macron proposed a joint visit to China to European Commission President Ursula von der Leyen. Von der Leyen, known for her harsh rhetoric against the Beijing administration, accepted the offer out of courtesy and went to Beijing with Macron. However, she remained in Macron's shadow throughout the visit and was treated as if she were not part of the program.
The French president's rhetoric, which openly challenged the United States, had more repercussions in the international community. Macron's two statements during his visit to China are critically important. First, Macron, who has often emphasized that Europe should reduce its dependence on the U.S., repeated this approach and said that it is now inevitable for Europe to ensure its strategic autonomy and become a superpower.
Second and more importantly, Macron made the following statement regarding the sensitive Taiwan issue, which angered the U.S. and trans-Atlanticists in Europe: "Do we (Europeans) have an interest in speeding up on the subject of Taiwan? No. The worst of things would be to think that we must be followers on this subject and adapt ourselves to an American rhythm." As it is understood from this statement, France will not be a part of possible tension between the U.S. and China in the coming days and will not act with the U.S. against China.
AUKUS: A 'stab in the back' for France
There are two important reasons behind the Macron administration's policy of rapprochement with China. The first is about France's strategic culture, which shapes its security and foreign policy choices since the European nation has always been in a distant relationship with the U.S. and has always been uncomfortable with Washington's invisible hand on European politics. General Charles de Gaulle, who played a significant role in the liberation of France from German occupation in World War II, is known as the architect of this strong tradition in France. So much so that, to give an example regarding China, de Gaulle's France became the first major Western country to recognize communist China in 1964, independent from the U.S. and other European countries. For this reason, the strategic autonomy approach that the Macron administration advocates involving France and Europe leaving the U.S. orbit and taking care of themselves is not new.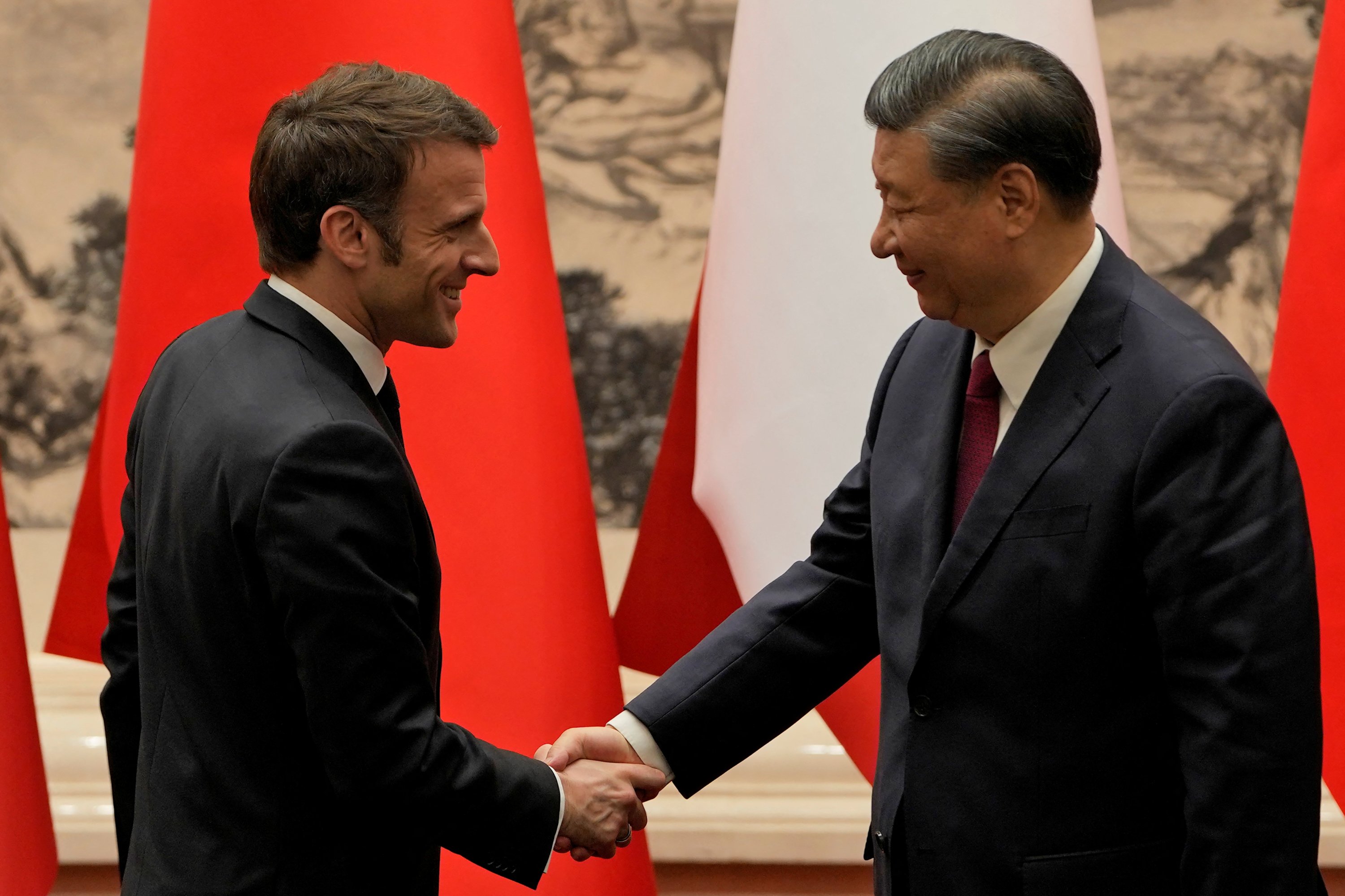 The other reason for Macron's China move, in defiance of Washington, is related to the fact that the U.S. did not include France in the security pact called AUKUS, which was established with Australia and the United Kingdom in 2021. Parallel with this surprising development, Australia canceled the submarine agreement worth more than 50 billion euros ($54.79 billion) with France to acquire American-made nuclear-powered submarines instead. In response, the Paris administration withdrew its ambassadors from Canberra and Washington. In addition, French Foreign Minister Jean-Yves Le Drian described the AUKUS process as a "stab in the back" for France. Since then, France has distrusted the U.S., voicing the concept of strategic autonomy in a harsh tone.
On the other hand, it is impossible to say that France's demand for strategic autonomy has been met in other European countries, at least for now. The U.K., one of the other two great powers of Europe, remains an unshakable ally of the U.S. At the same time, Germany still depends on NATO and, therefore, the U.S. in protecting its national security. Likewise, the European Union does not have the military power to respond to France's radical demands, as it owes its existence to the security umbrella offered by NATO, which is under the guidance of the U.S. In short, although France's demand for strategic autonomy for Europe sounds good, it lacks the potential to be easily implemented in the short and medium terms. For France to be successful in this goal in the long run, it needs at least the support of Germany. Otherwise, the demand for strategic autonomy remains only at the level of discourse.
On the other hand, China intends to attract a great power like France to its side against the U.S., which is in geopolitical competition based on a rational approach. In this way, the Beijing administration is trying to eliminate the containment doctrine that Washington has applied to it. There are two reasons why China is concentrating on France here. Firstly, as stated above, unlike trans-Atlanticist countries like Germany and the U.K., France advocates a foreign policy independent of the U.S. through its traditional codes. Secondly, France has not trusted the U.S. anymore since the day it was excluded from the U.S.-led AUKUS pact. Because of these issues, France is the ideal European actor for China to cooperate against the U.S. In addition, with such initiatives, China is trying to strengthen its side against Washington on the Taiwan issue. At this point, Macron's statement that "Europe should not follow the U.S. on Taiwan" during his visit is an invaluable gain for China.
Record $3.2B container ship order from French giant
The agreements signed between the French and Chinese companies at the Macron-Xi summit should also be mentioned. For example, the French shipping company CMA CGM signed a deal worth $3.2 billion with the China State Shipbuilding Corporation (CSSC). Within the scope of the agreement, CSSC will deliver 16 container ships to CMA CGM within two years. Moreover, the French Airbus company decided to add a new assembly line to the factory to double its capacity at its production base in Tianjin, China. Also, China Aviation Supplies Holding Company (CAS) will purchase 160 passenger planes in two different classes from Airbus. In addition, GDAT, one of the leading helicopter operators in China, will buy 50 H160-class helicopters from Airbus. Therefore, thanks to these agreements, which were signed in the shadow of global trade wars and benefitted both sides, France and China are getting closer economically.
Culminating with Macron's visit to China, former U.S. President Donald Trump's insulting remarks about Macron seriously affected international public opinion. Trump used an extraordinary slang term for Macron in his statement, contrary to diplomatic practices and principles of courtesy. Of course, Trump's disrespect and rude personality are important factors in making such a statement; however, it can be said that Trump's frequent quarrels with Macron during his tenure caused a global stir. As known, Macron stated in a report in 2018 that Europe should establish its army to protect itself from the U.S., China and Russia. In response, Trump replied, "Europe must first pay its debt to NATO, which the U.S. greatly supports." Likewise, they quarreled over the Daesh terrorist organization in their meeting in 2019. Considering the personal tension between the two and their different political perceptions, Macron's aversion to cooperation with the U.S. can be better understood.
In short, Macron's recent visit seems to have been an important milestone in implementing the goals of achieving strategic autonomy and strengthening economic relations with China.